A single platform to manage
all of your repairs
Full transparency, efficiency and control over finding repair solutions
and connecting with stakeholders.
Request demo
▶ Fixico in 30s
Intro video watched
Customisable platform to fit your repair management needs
Experience an end-to-end
digital repair journey
Fleet managers – and drivers, if applicable – can submit a damage report, schedule and track repairs all in a digital, centralised environment.
Use smart matchmaking to find the best repair solution for every damage
Here's how it works:
1
Fixico creates a damage report based on photos of your damaged vehicle
2
From your preferred repair network, or Fixico's marketplace, we shortlist suitable repairers based on criteria such as price, distance and availability
3
You can choose to steer the repair to the top suggested repairer, or tender the repair via a closed bidding system
Access valuable insights in real-time
The single platform streamlines workflows so you can monitor data such as repair KPIs, network performance, and vehicle/damage data.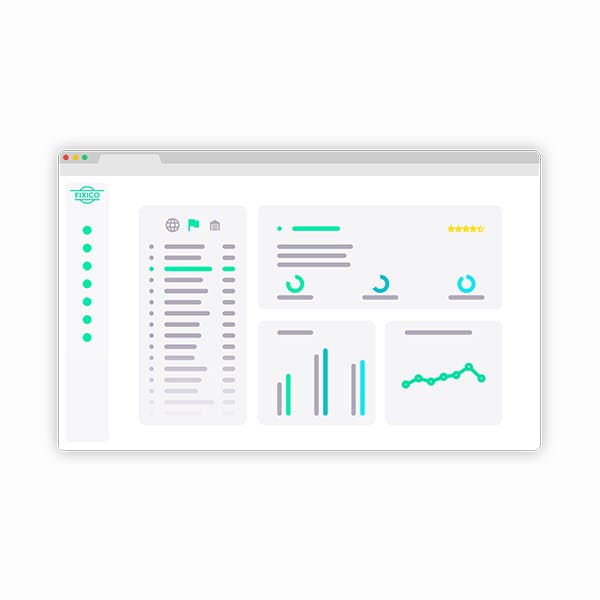 Benefit from digital repair management
9.5/10
Driver satisfaction with an effortless repair journey
29%
Lower repair costs with maximised efficiency
33%
Reduced cycle times with streamlined workflows
Full
Control and visibility over your operations
Design the platform to fit your needs
Does your business involve drivers? Give them a user-friendly web-app for the entire repair journey.


Don't have drivers, but want to communicate with all other stakeholders in a single environment? Leverage our comprehensive communication centre.


Want to keep working with your preferred repairers? Simply onboard them and allocate repairs directly through Fixico.

Contact us today to design your ideal solution:

Benefit from digital repair management
What types of damages can be handled?
Fixico works with specialised repair shops that meet all of the required certifications. Whether tendering or steering, cosmetic and complex damages can be repaired at the optimal price within our high-quality repairer network. Cosmetic damages are defined as exterior body & paint damage, including small scratches, side-mirror breakage, glass, or any other visible damage. Fixico can also handle the visible damages that are more complex than they seem, involving ADAS-sensors, cooling systems, mechanical and non-drivable damages.
What repairers do you work with?
Partners can choose to send vehicles to repairers from Fixico's network or their own preferred network. As Fixico's operates a dynamic marketplace, we can integrate new repair partners seamlessly and expand to any location.
Can your platform be integrated with existing systems?
Each of our repair handling services can be directly integrated with existing systems. Our API (Application Programming Interface) is compatible with any claim and repair management software application and is fully GDPR-compliant to protect customer privacy and company data.